We're always looking for ways to keep practice interesting. This iPhone app is a new take on the old idea of using dice to pick review pieces, choose repetitions, and more.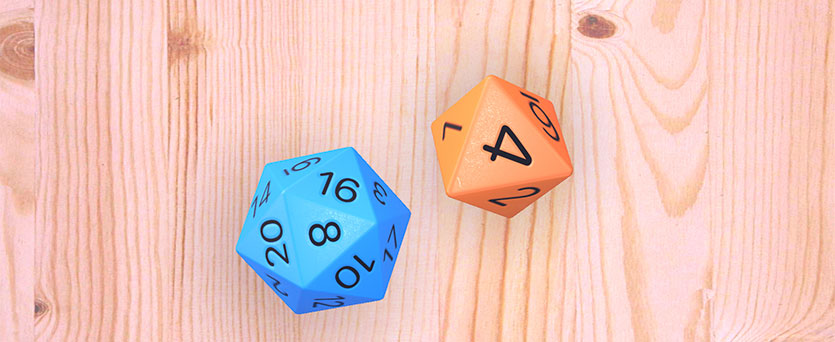 In our home practice, we're always looking for novel ways to make it interesting. A newly-discovered app "Dice by PCalc" fits the bill.
Over the years we've picked up a small collection of dice at institute gift shops but as my daughter has gotten older, she seemed less interested in using them in practice. But we happened to discover an iPhone application called "Dice by PCalc" that somehow makes it more interesting. Since novelty is one of the keys to keeping practice lively, we decided to give it a try. It has some interesting features that can make it useful for Suzuki practice.
Custom dice
One of the interesting things that you can do with the app is to create custom dice. To try this out, I created a Suzuki violin Book 1 die. It's a 20-sided die with the names of the pieces in Book 1 on each face. Since depending on how you count the pieces there are only 17 pieces, three of the faces just say "Roll again."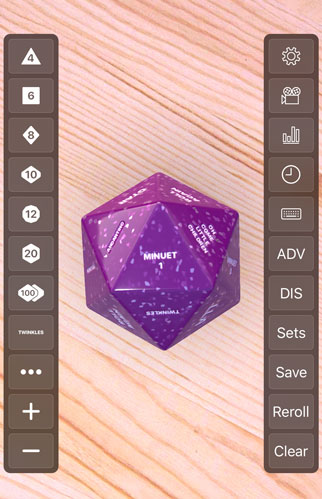 It could be a fun way of picking review pieces. The process of creating custom dice is a little cumbersome. But once you figure it out, it's reasonably straightforward and then you have neat way of picking pieces to review.
How many repetitions?
One of the favourite ways to use dice in practice is to pick a number of repetitions. How many times should we do this passage? Let's roll the dice and find out! There's something about leaving it to chance that takes some of the heavy-handedness out of the process of picking a repetition count.
Other features
The app allows you to set up different dice sets. For example, you can create a set composed of an eight-sided die and a twenty-side die to find-tune the potential maximum number of repetitions. The simulation looks quite accurate and reproduces the physics of dice rolls really well. And you don't have to go chasing the dice before the dog grabs them. And there's no risk of them getting lost under the sofa!
It's a fun way to inject a little novelty into the routine of practice. And whether you use real dice or an app, repetitions add up to improvement. The app is available on macOS and iPhone via the respective app stores. It does not appear to be available other platforms, though undoubtedly there must be something analogous there.

Practice well and stay healthy!