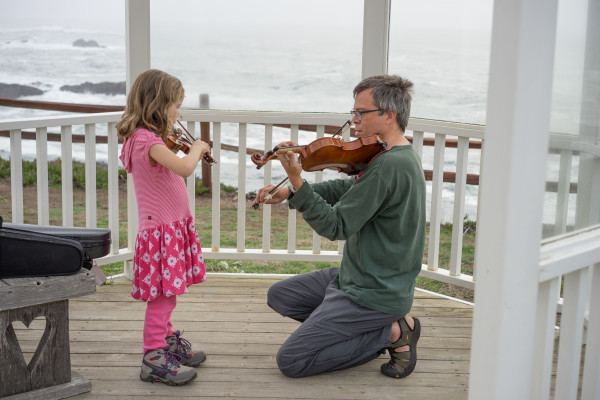 Hello
The Suzuki experience is an intense whole-family enterprise. As the father and main practice partner of a young Suzuki violinist I decided to write about our experiences, sharing the ups and downs (mostly ups!) of our practice. Learning to play the violin is more than the sum of knowledge and skills about bow strokes, left hand skills and reading notes from a page. Lessons about life abound for kids and their parents. This is what I'm hoping to chronicle. By writing about the experience of being a Suzuki parent, I'm also hoping to connect with the broader Suzuki community and to hone my own thinking about how to help our children develop as good people and good musicians.
Who are we?
I (Alan) am the writer of this blog and main Suzuki practice parent. I studied piano traditionally from about age 6. I briefly studied violin for a few years starting around the 5th grade. I wasn't all that good at it; so the piano became my main instrument and it always has been. I perform with a piano trio, Trio Grazioso from time to time.
ViolinGirl began studying violin at the age of 3. As of 2018, she is 10 years old and is working mostly outside of the books now.
I hope this is useful to you in some way. I'm not a teacher; just a parent. This is just our experience. It's entirely possible I may say something that a skilled teacher wouldn't. If I do, well…I'm just a parent - a parent with the same struggles as any other.
If you want to comment on an article (I hope you do!), you can check out this blog's Facebook page.
If you want to know what we're up to, see the our photo album: Musical adventures.
For the super-geeky, you can read about how I setup this blog.