A new standard in defining Suzuki parent education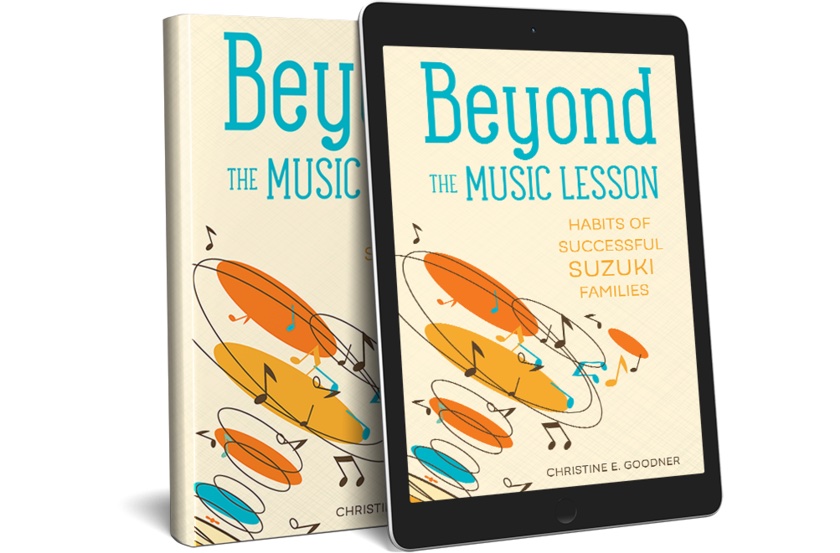 Christine Wilson Goodner's new book "Beyond the Music Lesson" is a essential new guidebook to navigating the Suzuki landscape and starting off well.
Suzuki's seminal 1969 work "Nurtured by Love" introduced his method of talent education to English-speaking audiences and ushered in an approach to learning music that would fundamentally change the face of music education. His concept was simple and profound. Based on an analogy between learning one's native language and learning to play music, he drew children, parents and teachers into a relational triangle that focused love and attention on both the musical and character development of children.
Since its introduction outside of Japan, the Suzuki method has endured and flourished. Yet the social and economic changes since the 1960's have been equally profound. Family life isn't exactly as it was in the 1960's. Families are busier and rushed. In many cases, both parents work outside the home. Solid practical advice is needed. This is where Christine Goodner's new book "Beyond the Music Lesson: Habits of Successful Suzuki Families" arrives to help Suzuki parents work with their children in a way that is consistent with Suzuki's original concept while recognizing the realities of today's families. What Suzuki wrote in broad philosophical strokes, Goodner pens in fine detail.
She has a unique vantage point from which to see Suzuki's triangle. A Suzuki student herself, she describes how her father worked effectively with her as a practice partner. Later, she tells about her own ups and downs as a Suzuki parent herself. Finally, as a teacher and keen observer of family life, she lays out a series of habits that effective Suzuki families employ. Beginning with an introduction to the mother-tongue analogy of music learning, she begins an exploration of seven practices that predict success. A comparison to Steven Covey's "Seven Habits of Highly Effective People" is obvious. The habits may be different here, but the focus on deliberative, self-evaluative practice is not. In each chapter she focuses on the habits of being present, daily practice, setting a positive environment, being a part of the community, listening, focusing on mastery, and seeing the big picture. Here, she doesn't skim the surface. Instead, Goodner offers very specific practical advice, gleaned from her broad experience, to help modern parents work with their children in a way consistent with Suzuki's vision.
"Beyond the Music Lesson" is an important contribution to the Suzuki canon. For parents new to the method, beginning with "Nurtured by Love" and moving straight into "Beyond the Music Lesson" will serve them well. Think with me for a moment about how effective enterprises work. Any major initiative needs a strategic plan and a mission statement. Suzuki's mission statement was clear. It would be something like: "World peace through raising children of good character and teaching them the universal language of music." While Suzuki lays out goals and strategies, Goodner dives into the tactics of implementation. "How do I foster a listening habit?" "How do I set a positive environment?" This will be of enormous help to Suzuki families and reference to which they can turn repeatedly over the years.
Available this summer, "Beyond the Music Lesson" will be a essential introduction and reference for parents and teachers of the Suzuki method who want to do it right. Stay tuned for news about publication.
I'd love to hear what you think. See the Suzuki Experience Facebook page to comment.
Update 2017-07-04: It's up on Amazon now!